Far North Dallas Apartment Rentals | Far North Dallas Apartments for Rent
Located north of the Lyndon B Johnson Freeway lies Far North Dallas, often considered to include residents of Addison and Carrollton. This area of the city offers a community feel and peacefulness you will not find in the center of Dallas, while still being just a car ride away from the city of Dallas' many attractions. The residents of Far North Dallas, Texas generally have above-average household incomes from their full-time jobs within the city of Dallas. Many of these residents mold their daily routines around not leaving the area.  For those who do work in central Dallas or other surrounding areas, the commute time ranges to no more than 20 minutes.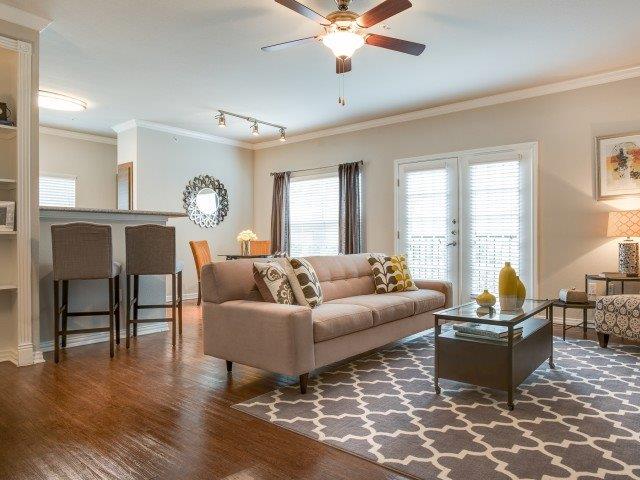 Renting apartments rather than purchasing a home is very common in the Far North Dallas area. Generally, apartments available will have about 3 to 4 bedrooms while houses or condos have 1 to 2. Couples with children, or those planning to start a family many consider a different area of Dallas to beater fit their needs. However, for those with a family who settle in Far North Texas, there are numerous options when enrolling your kids in school.
The American Airlines Center, home to the Dallas Mavericks and the AT&T Performing Center which offers countless concerts and productions are in easy reach for Far North Dallas residents.
Click here to find out more about Far North Dallas, T.X., its many neighborhoods, and what they can offer its residents.
Start Your Search for Far North Dallas Apartments
Dallas-Apartment's Far North Dallas apartment locator service can help you quickly find an apartment in Far North Dallas, Texas that meets your specific budget, size, location and amenity requirements.
For over 15 years, our experts have been helping people locate Far North Dallas apartments that perfectly match their every desire. Whether you are looking for a larger two or three bedroom apartment, or a smaller, one- bedroom, we can guarantee we will find you what you are looking for. Simply list all of your preferences and fill out our form and we will do the rest. It is important to keep things in mind like, does the apartment need to allow pets, do you want a complex pool, and do you need to be located near a train station. And remember, our Far North Dallas apartment locator service is completely free. You can also qualify for a cash rebate when you register and locate an apartment in Far North Dallas, Texas.
To get your customized list of Far North Dallas Apartments simply register online or call us today at 972-818-3776 or 1-888-846-3456, and we will begin searching for apartments immediately.